"In 2010 the Heise and Jakobsen received a letter from the Ministry of Science noting them that if they ever wanted to conduct educational activities under name the Copenhagen Free University it would be breach a new law outlawing self-organised universities."
Rare little booklets containing intimate stories like these are usually very valuable. This one Trauma 1-11  about the Copenhagen Free University looks particularly interesting especially with the word trauma in the title, and not bad for $2 from Half Letter Press. I am assuming there are some personal perspectives in here that might help balance the hear-say about the Copenhagen Free University. Actually, I don't know many people who even speak about this University, besides what I read online.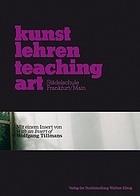 The last time I had a chance to read stories from the inside of a progressive art school was when I was reading Kunst Lehren/Teaching Art from the Stadschile Frankfurt/Main in 2008. During this time there was a whole explosion in discussions, panels, presentations, etc re-examining Art Academies. Which now, looking back at that moment, there was much talk but very little action, most people involved actually clung to their pay-per-knowledge colleges and universities, and now it is business as usual, even the more radical artists are teaching at the most expensive MFA programs to make matters worse. Since then Universities have realized that radical art teachers, once a nuisance to deal with, can actually increase enrollment $$, and as desperate as they are to stay afloat in NYC, they are really only radical in theory.
Anyhow, it's summer vacation now for all students in America. Time to think about the student loans and the reality of the economy. I hope that the Fall brings some new ideas to the never ending want of a free university system, with MFAs in NYC averaging about $65,oooUSD, we're along way from that reality. Occupy Student Debt Campaign, anyone?
——
Post Script: Anyone heard about a similar Free University of New York, held in a 14th Street loft in the East Village (1965) ? According to this personal account from Roy Licker (scroll to bottom for FUNY), it lasted only a couple of years, citing hidden Marxist motives from a very controlling management team among other things,  I'm still looking for some intimate accounts, like these.